I am going to type a quick update but I only have a couple of mintues because I told myslef I would start practicing at 10:05 so that I could work for an hour before going to yoga.

Mexico was awesome. We played some great concerts, I met a lot of new people, and Mexico itself was pretty cool.

This was the most amazing place that I visited. We climbed to the top of the pyramid in the back.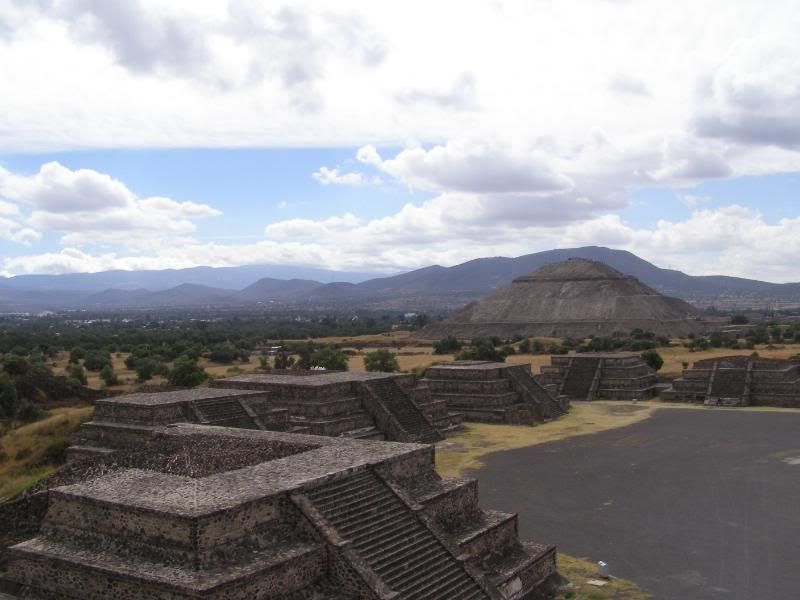 This was the most amazing concert hall that we played in. It's the Palacio de Bellas Artes in Mexico City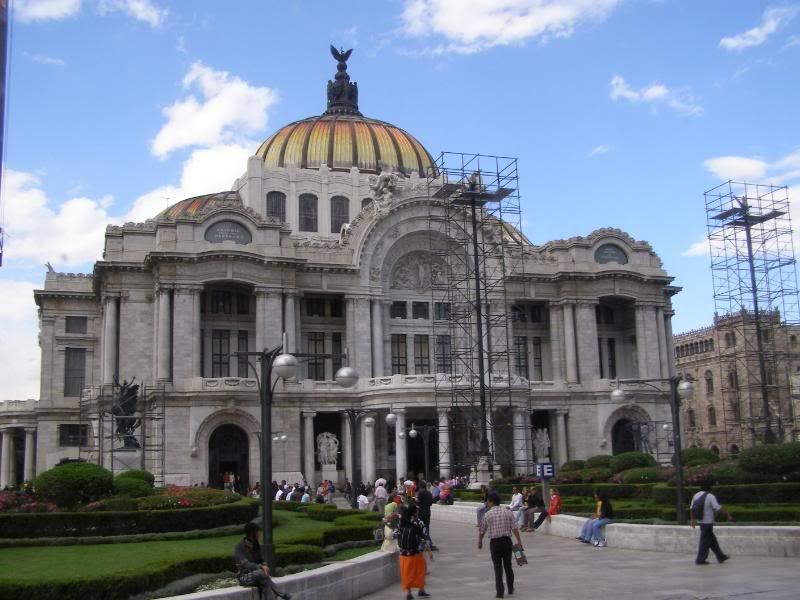 I"ll update some more soon!

Well, I just looked at my palm pilot and starting tomorrow, I have either a rehearsal, performance, audition, orchestra travel day, or a combination of the above every single day until December 2nd, except for November 16th. Wow.

I"ll do a quick update first and then go into some details.

So, the past couple of weeks have been busy but good. I finally finished my audition CD and mailed it out to Charleston. I found out that I didn't get that childrens' musical job, which i'm kind of disappointed about, I'm not sure why I didn't get it, I definitely played very well, and they were happy with me. Who knows, the composer had some vague reason, he said it had to do with the arrangement, maybe the decided not to use violin, i don't know, but he did say he would like to use me for future projects, so we'll see, something interesting could come out of it.

I had an audition in Syracuse. I drove up there last Sunday, it was an awesome drive it was really pretty, all the leaves were changing and there was absolutely no traffic. And I got to stop at Sheetz, the most amazing fast food/gas station place ever! The audition itself was ok. I didn't get the job, but there were probably about 50 people there for one full time job and one part time job, so the odds were pretty bad. But I did play well, and I played a couple of things right that I've never done under pressure, so it was definitely worth it!

The next couple of weeks are going to be filled with all sorts of things. I have rehearsals and a concert out on Long Island. I have rehearsals and 3 concerts up in Connecticut this week. And I have a million rehearsals leading up to a concert on the 15th and the tour to Mexico with the Philharmonic Orchestra of the Americas. Then I also have an audition for the Delaware Symphony sandwiched in there too. It's crazy, but I'm really excited about all of it, and it's going to be nice to kind of crash in December.

On another side note, Ian and I had such an awesome relaxing weekend, it was the first weekend in a really long time that both of us were in the city and not working. We just hung out, and I cooked some good food, and we watched some good TV and went to the movies, I love weekends like that :-)
Current Mood:

creative


It was awesome, if you've seen it and are wondering what it's like to audition for things, at least for me it was pretty acurate. It ws funny because the audition I had the night before was one where you were all in a big group warming up together and making awkward small talk while waiting for your turn to audition. Then at the end the announce who got the jobs and who didn't. Seeing Chorus Line the day after was kind of intense because it was like reliving the whole thing.

I wonder if it's just a fun musical for most of the people who see it, probably, i mean it's great and the music is fantastic. I guess for most people it's not stressful to watch. There's a scene in there where they sing about what would happen if either they get too old or injure themselves and can't dance anymore, i started crying like a baby. I had a bout of tendonitis a couple of years ago and I was dealing with that possibility, it's terrifying, and intersting to see that scenario put to music, I guess I didn't know I was still freaked out by it.

Anyway, it was a great musical, and if you get the chance to see it, i really reccommend it!

And something cool, 2 days after I saw it I met one of the guys in it, he sings in the church choir that my friend conducts and sometimes hires me to play with.
So, I never posted about this musical. I saw A Chorus Line with my mom and cousin Thelma a couple of weeks ago, actually the day after and audition and the day before evan and amy's wedding.
Ian and I are dorks, and never checked when our inspection was up, we are buying my grandma's car so we weren't the last ones to get it inspected. On Wednesday, I went downstairs to go to a yoga class before my trek up to CT, and what do I see? I nice orange ticket on our windshield. After getting inspected right away at the local gas station it failed, then I brought it out to my parents house so that we could park in their driveway and not get tickets every day. Needless to say, it's taken care of, but required a bunch of extra trips to LI, and a long drive from New London to Stony Brook late one night. This did not leave me the time I had hoped for to make my CD.
I spent time for the past 3 days working on this CD, and there's always something a little wrong with each time I record an excerpt. With such short chunks of music, they really have to be as close to perfect as humanly possible, it's very irritating, because at some point you do have to just stop and settle for what you've put down. I'm going to work for another couple of hours today and then tomorrow morning, then it's time to edit and make sure everything plays ok so I can overnight it on Thursday.
On a good note, I think my childrens theater audition went well. It's for a
musical
that is mostly attended by schools on field trips, it's an adaptation of a children's book that seems to be very similar to anne frank. I'll find out about that next week.
On a dissapointing note, I'm no longer going to Greece in December :-( The trip was sponsored by the Greek Orthodox Church, the head bishop of Greece was supposed to have surgery last week, but instead they found out that he couldn't because his cancer had spread and now he's dying, so the church can't sponsor any celebratory events (like concerts) right now. Hopefully the trip will be rescheduled.
Well, it's been an interesting week. I had my first cycle of rehearsals and concert in Connecticut which was good, and at the same time had to deal with some stupid car stuff, that was not so good, but I did get to drive my parents' new camry hybrid which was awesome!
Current Mood:

aggravated


The orchestra was pretty good, better than I expected it to be for a small orchestra in Maine. They put everyone up in different hotels in the town, I was lucky and got a room to myself, so I was able to practice in my free time. I had fun, I drove a half hour to go to this restaurant called The Mex that is my favorite mexican restaurant ever, then early in the morning before my concert on Sunday, I drove out to the town where I always go with my family. I took a bunch of pictures, so now I have fall versions of the same pictures that I take every year :-)

I drove most of the way home after the concert on Sunday, but I got really tired when I got to CT, so Ian pricelined me a hotel along my route, and I finished up my drive yesterday morning. Somehow I managed to lose a shoe in the hotel room, seriously, I have no idea where it went, I looked under all of the furniture, I even borrowed a broom from the cleaning lady to poke around under everything too. Very strange.

Before I left for Maine, I had another bit of exciting news. The man who I bought my violin from a couple of years ago occassionally calls me for usually pretty bad gigs. He called me up last weekend though to see if I wanted to go to Greece in December to play a concert with an orchestra he was putting together! It doesn't pay, but neither do I, so yeah, it's going to be a crazy couple of months! I'm really excited though :-)

This week is going to be a crazy one too. I have to finish making a tape to send to Charleston for an audition, work on a bunch of different excerpts for some upcoming auditions, go to an audition for a childrens theater thing, and go to connectictut 4 times for my first concert cycle up there, woah.
Soon after my last post, I got an email that the conductor from the Connecticut orchestra was looking for some extra players for a concert with an orchestra in Maine that he also conducts. I decided to take the opportunity to make a good impression on the new conductor and take a trip to Maine. It was a long drive, about 7 and a half hours, but really beautiful. I drove up on Friday morning and drove through New England where it is actualyl fall. I used to go up to Maine every summer with my family, but I haven't gone up for a couple of years so I was really happy to go, also I've always wanted to go there in the fall.
I had another audition today, my third one this month. This one was for the
Eastern Connecticut Symphony Orchestra
. After what I thought was a really bad audition, my fingers were sticking to my violin like crazy because of the humidity and weird temperature changes in the building, I found out that I got one of the spots in the second violin section, yay!
Well, it's 1:15 am and I'm awake because I had some diet coke with my gross 1-95 reststop food on the way home from Connecticut tonight. I rarely ever have caffeine so it really affects me whenever I do. I tried to sleep and failed, so I thought I'd update with some good news.
Current Mood:

happy
Quitting my job was seriously the best thing I've ever done. I am so lucky that Ian is so supportive of the whole thing, he's ok with the fact that our total income basically got cut in half so that I can actually really try to do what I've always wanted to. It's amazing.

The quantity that I'm practicing and the clear headedness that I have when I practice make such a difference.

I have another audition tomorrow for the Eastern Connecticut Symphony in New London. It should be a bit of a drive, but I'm newly obessed with Air America and NPR podcasts so I'll make sure I"m prepared with lots of listening material.

After this audition, on Friday I'm seeing Chorus Line with my mom and cousin, and then there's Amy and Evan's wedding, Ian and I can't wait to have an awesome time!

I have a bunch more violin things coming up too. A couple of wedding gigs, and then I have an audition for a musical , a bunch of rehearsals for these composers concerts on Long Island, I have to make a CD for a job in Charleston, then there's an audition in Delaware the day before I leave for the Mexico tour.

I"m also trying to figure out if I'm eligible to work in the UK. THe BBC orchestra has some openings, but it says that you have to already be eligible to work in the UK, I really have no idea if I am I doubt it, but I've got to investigate.

Anyway, I checked my email this morning, and I finally passed an audition! I'm going to be playing a concert at NYU, somewhere in Dallas TX, then Mexico, and at the end at the Kennedy Center! Yay, I am ridiculously psyched!
So, I had my second audition of the year on Sunday.
Current Mood:

jubilant
I had my audition on Saturday, it was awesome beause Ian came up and drove with me, it was not awesome because I didn't make it to the second round. It's frustrating because I feel like I should make it at least past the preliminary round for the smaller orchestras like New Haven, but that said, I really only put in about 2 weeks of practice time for this audition so I'm not taking it too hard. It's funny, I'm so used to the constant rejection that comes with trying to get a playing job, that while it affects me, I know that it's part of the whole thing, I mean this is what I signed up for and I knew what I was getting myself into. I get frustrated and annoyed for a little while then start figuring out what to do better next time.I think it's harder on Ian and my parents than it is on me.

I have another audition coming up on Sunday, this one is definitely going to be more low key, I don't think there are any elimination rounds or anything, and they require way less music so that's good!

I guess that's it for now :-)
I feel like I've finally gotten into my new self imposed schedule. Which involves practicing, cooking, yoga, and trying to book gigs.
T-minus 2 days until my first audition of the season
Then another week until the next one
Then something i'm excited about. i'm going to be playing in a concert series on long island with a string quartet. we're playing all new music it's run by the Long Island Composers Alliance Should be fun and a break from practicing the usual orchestra excerpts.